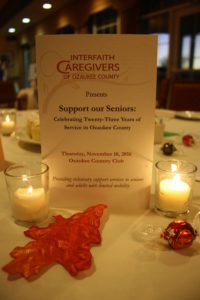 Thank you to everyone who attended and supported this year's event!
Interfaith Caregivers of Ozaukee County
2016 Fall Fundraiser

Support our Seniors: Celebrating Twenty-Three Years of Service
in Ozaukee County
Keynote Speaker Craig Thompson,
Executive Director
Transportation Development Assoc. of WI
presenting
"The Transportation Challenges of Seniors"
Master of Ceremonies
Representative Jim Ott,
Wisconsin State Assembly, District 23
Thursday, November 10, 2016
5:00 pm — 7:00 pm
Drinks & Heavy Hors d'oeuvres
followed by a short program
$35 / person
Ozaukee Country Club
10823 North River Road, 43 W
Mequon, WI
Will you help light up a life?
Interfaith Caregivers Ozaukee offers services free-of-charge to clients. To support our mission  of enabling seniors and adults with disabilities to remain independent in their homes, we rely on generous contributions to support our programs.
For additional ways to support Interfaith Caregivers of Ozaukee County, please see donation page.

Sponsorship Opportunities
We could not do the work we do, without your support.
Sponsoring our events provides you with a way to showcase your organization and support our mission!
Kindness Week Project Warmed Senior's Hearts
On Feb. 14th, during Random Acts of Kindness Week, the United Way of Northern Ozaukee and MATC Mequon and Milwaukee staff and faculty partnered with Interfaith Caregivers of Ozaukee, to create beautiful cards with special messages. Once created, the cards and small bags of chocolate were delivered to our senior clients. Thank you to everyone involved for making this day and week so heartwarming.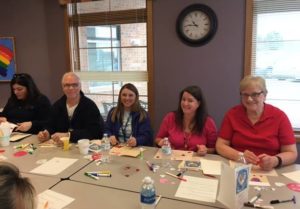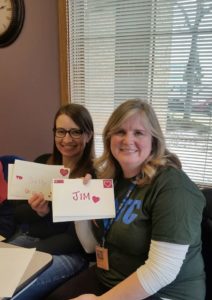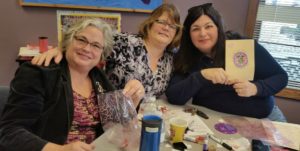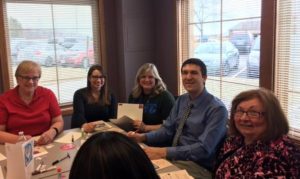 Sobelman's Gives Back to Benefit Interfaith Caregivers of Ozaukee
Need an idea for lunch or dinner? How about benefiting Ozaukee County seniors at the same time? Visit Sobelman's Pub N Grill NorthShore located at 10352 N. Port Washington Road in Mequon, on Tues., Dec. 6th from 11a.m. to 9p.m. As a part of their Sobelman's Gives Back program, they will be donating $1 for each burger and sandwich sold! One day only! So stop in, enjoy and benefit the work of Interfaith Caregivers of Ozaukee County.
HOLIDAY GIFT BAG PROGRAM
Can you help? So many of our elderly neighbors are alone. They are the silent majority who need daily essential services and the comfort of knowing someone cares about them. The simple act of remembering seniors, especially during the holiday season, can make a difference to brighten their day. Interfaith Caregivers Ozaukee is seeking donations of non-food personal care items, grocery store gift cards ($5-$10), knitted items, puzzle books, etc. The items will be included in holiday gift bags and delivered to seniors throughout the county. This will help provide that social connection our seniors desperately need. Items are needed by Thurs. Dec. 8th. Please contact us for further information, to pick up or deliver items. Holiday-gift-bag-flyer

Get the latest news and happenings about Interfaith Caregivers of Ozaukee County by visiting our FaceBook page!  If you click the "Find us on FaceBook" logo, you can press the "like" button on our page so we are always in your Facebook news feed!
Three Easy Ways to Get Involved!
Solving the Senior Transportation Problem With Your Help!
Be it in the city, suburbs or the country, every day across Southeast Wisconsin seniors need a way to get to the doctor, grocery store, library, or other places they can no longer drive themselves. That's why we created Drive. Give. Serve. It's three easy ways to help solve one of our community's biggest problems – senior transportation. For further information visit http://drivegiveserve.org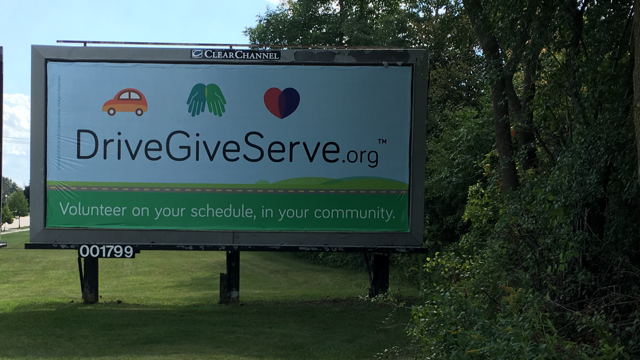 Look what popped up! Drive.Give.Serve billboard located in Port Washington on the Corner of Spring Street and Hwy 32 heading south. Another faces north the opposite direction.